בבלוג  האימון שלנו זה נעסוק בעולמו של היזם
It's not unusual for a first-time CEO or business owner to experience qualms about their ability to handle the challenges they face. But it's also true that many veteran business leaders encounter self-doubt from time to time. Either they learn how to overcome those doubts or they succumb to their lack of confidence in themselves and put their businesses at risk.
Fortunately, there are ways to counter any lack of confidence and translate their behavior into productive and inspiring leadership. Here are tips to keep in mind:
If you're just assuming the new role, make a great first impression.
A new CEO's first 90 days is a honeymoon period where he or she will be feted and indulged and tested. To make a favorable impression with others in the organization, start out by identifying challenges your company faces, determining your key objectives, and assembling a concrete timetable that you are accountable for. When a new leader makes known their values and demonstrates their leadership style, everyone on the team knows what to expect.
When it comes to moments of uncertainty, remember you're not alone.
Experiencing doubt about your capabilities is even more difficult to handle if you think you're the only one who has ever felt this way.
On the contrary, "There are many more leaders experiencing self-doubt than you can think of," notes Training Magazine. Rather than give way to doubt, derive lessons "from this tough period and treat the struggle as a platform for your future success."
Don't look at your emotions as unalterable facts.
Laura Drury is the CEO and Owner of TAB Focused Directions. She specializes in building teams and creating sustainable profitability. In addition to facilitating TAB Board Meetings and business coaching, Laura runs team building workshops, assists her clients in hiring the right employees, and supports vendor management objectives. Laura has served in many roles in the telecom software industry, most recently as Vice President, Products and Marketing. She holds a dual degree in electrical engineering and computer science from University of Colorado.
Laura says, "TAB Board Members inspire me! I get to observe these business leaders work together on each other's challenges and opportunities. They're all experienced, street smart and driven to be even better at what they do. They hold each other's feet to the fire when they shortchange their dreams or don't do the hard stuff that must be done to get there. All with respect and kindness. Facilitating these real conversations is tremendously fulfilling and important to realizing all of our best futures."
Continue reading for a few business owner tips from several of Laura's TAB Board Members:
Use Your Network To Find Employees
Use your network to find new employees. The best employees are often the ones referred to you. Ask a colleague to review a candidate's work in their area of expertise (i.e. If you're not in marketing, ask a marketing friend to review a marketing candidate's work). They can give you great perspective.
Lisa Marie Maxson
10X People
Training in Complex Fields
When training employees in a complex field, set up a structured program that rewards milestones throughout the journey. Each milestone allows employees to bring value to the company and help deliver ROI. Market the training to the employee for its value with other employers inside and outside the industry.
Lynn Tomasek
Brothers Heating, Plumbing and Electric
Model New Employees After Your Best
Identify the best team member you have and then build a hiring strategy around them. What is it about them that really works? Communication? Skills? Values? Attitude? Document those characteristics and talents that make them an all-star. Then in  your hiring strategy, seek the right pieces of clay and mold them.
Tom McNamara
Protective Packing Solutions
When merging with another company, attending to culture gaps is critical for success. Make sure this is addressed and that there is an integration plan in place.
Holding Your Team Accountable
Hold your team accountable by defining the goals and consequences when goals aren't met. Have your team help you with this to keep them engaged and focused.
"The only stress that isn't self induced is physical stress." Reset your perspective using this quote. And let your team co-create solutions to task bottlenecks and stress.
The Alternative Board
President & CEO Jason Zickerman
on the Power of Personal Vision
When business owners approach Jason Zickerman for insight into achieving something significant in their company, he asks them, "What do you want from your life and what is your personal vision of success?" Jason knows that you are much more likely to achieve the vision you want for your business if it is aligned with the personal vision you want for your life.
As the leader, you should be demonstrating and requiring high levels of accountability.
"Working below your pay grade,", expectations of your people's performance, keeping the wrong people (and why we do), and the effectiveness of your team are key areas that can negatively affect your company. Stephen Davies shares how addressing these areas can create an Accountability Culture that will improve your business's profitability.
This webinar will explore:
The cost of opportunities wasted in your business because you are "working below your pay grade"
What "entitlement" looks like and the impact that it has on the profitability of your company
Why we are so slow to fire the wrong people
How to build a culture that gives the business leader the confidence to hold people accountable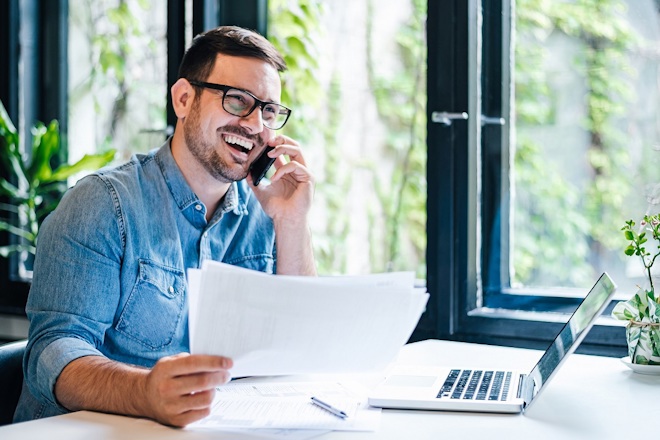 Working remotely has been a part of our lives since the beginning of human existence. It started with the hunters and gatherers. Even as late as the 1800s, most business owners ran their services from their own homes. But then came the industrial revolution, which transplanted the bulk of the labor market to factories, offices or other places of business for more than a century.
It really wasn't until the 1990s that the Work from Home (WFH) employment model started popping up again as a desirable employment model and a viable perk. At the time, businesses were clamoring for tech savvy employees, most of whom were Gen Xers or Millennials. These skilled employees held a tremendous amount of clout and bargaining power – and essentially demanded WFH accommodations and more flexibility in exchange for their formidable skills.
While these new dynamics were perhaps inconvenient for business owners and employers, adopting to this now decades-old employee engagement approach surely facilitated the ease in which business transitioned to the WFH model during the pandemic.
There has been a lot of talk lately about Artificial Intelligence and how it is poised to change how nearly every business owner runs and grows their company. And it's already happening. The recent introduction of ChatGPT has expanded curiosity into artificial intelligence and ignited interest into how to best leverage the tool in everyday business operations. It is by all accounts pretty impressive stuff. Even the big dogs like Google and Microsoft are adding the technology to their platforms and browsers.
While AI is expected to quickly impact nearly everything we touch, it isn't the only factor transforming the way we do business in our post-pandemic world.
1. The Expected Rise of E-Commerce
If your business is not engaged in e-commerce, now might be the time.
E-commerce boomed during the pandemic. Shopify reported nearly a $900 billion increase in e-ecommerce sales throughout Covid lockdowns. While online sales have certainly leveled off a bit since then, the global industry is still up more than 20% compared to pre-pandemic levels and is expected to grow to more than $8 trillion in the next three years.